At a Glance
Description
What can we learn from the Kent State Riots?
Producer
Department of Special Collections and Archives, Kent State University
May 4 Collection, Kent State University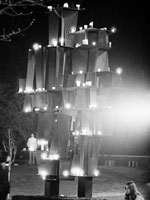 This site is designed to serve as a memorial to the four students killed at Kent State University on May 4, 1970, by National Guardsmen. Visitors will find 93 transcripts of oral history interviews taken at May 4th commemorations in 1990, 1995, and 2000. The oral histories, ranging from two and 35 minutes, are part of a larger collection. The site provides a 780-word chronology of events and a bibliography of 18 books, 90 articles, four complete issues of journals dedicated to May 4th events, and 25 websites about the tragedy. Exhibits include images of 11 memorials to the four slain students, three poems, and annual commemoration programs and photographs from 1971 to 1995. The site also includes finding aids for 71 offline collections and will be interesting for research in the 1960s, protest, and American education.