At a Glance
Description
Get up close-and-personal with western migrants. Explore personal accounts of westward treks from the perspective of 45 men and four women.
Producer
American Memory, Library of Congress; Brigham Young University; and Utah Academic Library Consortium
Trails to Utah and the Pacific: Diaries and Letters, 1846-1869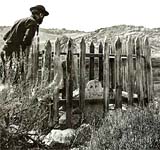 Diaries documenting the westward treks of 45 men and four women during the period of the California Gold Rush and the westward migration of Mormonism are presented in this site. Although most of these travelers took either the California or Mormon trails, a few diaries provide accounts describing life on trails to Oregon and Montana.
The diaries are complemented by 82 photographs and illustrations in addition to 43 maps, including an interactive map displaying trails, cities, rivers, and landmarks. There are seven published guides, two essays on the Mormon and California trails, brief biographies of most of the diarists, and a list of suggested readings. This is an excellent collection of materials that documents 49 individual perspectives on a movement that encompassed an estimated 500,000 people.