At a Glance
Description
Everything you never knew you wanted to know about Alexis de Tocqueville's trip through the United States. You're welcome!
The Alexis de Tocqueville Tour: Exploring Democracy in America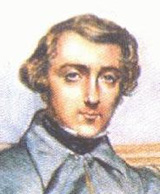 Designed to accompany a nine-month C-SPAN "road trip" in 1997–98 that retraced Alexis de Tocqueville's travels in 19th-century America, this site contains information about Tocqueville, his travels, and his writings; the full text of Democracy in America; a map of Tocqueville's trip; and selections—organized by state—from the journal he kept while in America.
Also provides a short list of references to Tocqueville by modern-day Americans ranging from President Bill Clinton to Newt Gingrich; 26 present-day photographs of Tocqueville's hometown; a 13-title bibliography; access to "A Conversation on Democracy," a two-hour video special; a preview of the book and video Traveling Tocqueville's America; links to seven sites on France; and approximately 30 lesson plans.
A useful introduction to the man and his influence.