At a Glance
Description
Visit the businesses and meet the people of Harrisonburg, PA's 8th Ward.
Producer
Penn State University, Harrisburg
Harrisburg's Old 8th Ward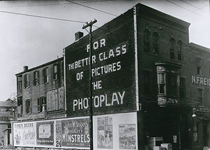 This website is devoted solely to the study of 8th Ward from Harrisburg, PA, in the 19th century, with essays, images, maps, and directory lists. A virtual walking tour offers more than 70 pictures of 8th Ward buildings and a Then and Now tour pairs views of streets and buildings in the 19th century with views of the same areas today.
The site has three informational directories on businesses, institutions, and residents. The business directory lists businesses found in the Old 8th Ward organized by goods or services and provides the owner's name, dates of operation, and links to photographs. The institutions directory lists charitable organizations, churches, fire companies, market houses, and schools with links to photographs and a brief description. The extensive resident directory is organized by streets and lists residents with their occupation, ethnicity, years of residence, and other available information.
A guide to student research on the Old 8th Ward includes 16 scholarly essays on such topics as business and industry, churches and synagogues, newspaper accounts, politics, residents, and saloons. Additionally, there are six period maps and a miscellanea section with advertisements, newspaper articles, postcards, and real estate listings. There is no search capability. In addition to those interested in Harrisburg itself, the site is of interest to anyone studying urban development in the 19th century.