At a Glance
Description
View maps created for a multitude of purposes related to travel by rail.
Website
Producer
American Memory, Library of Congress
Railroad Maps, 1828-1900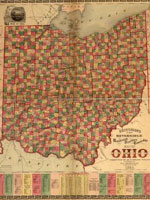 This Library of Congress American Memory site features images and descriptions of 623 railroad maps selected from more than 3,000 regional, state, and county maps in the Library's Geography and Map Division. The selected items represent the variety of cartographic styles and techniques used in maps created for a range of purposes, including railroad surveys, U.S. General Land Office maps, surveys for rights of way, general surveys for railroad company reports, maps used by commercial publications, ticket agents and the public, and route guides to encourage commerce and travel by rail.
The maps on this site were featured in the cartobibliography Railroad Maps of the United States: A Selective Annotated Bibliography of Original 19th Century Maps in the Geography and Map Division of the Library of Congress, compiled by Andrew M. Modelski (1975). A descriptive summary of 50–100 words and notes on the scale, publication place and date, medium, call numbers, and repository accompany each image.
The site also includes a lengthy (3,000-word) essay outlining the history of railroads and maps, a bibliography of eight related works, and links to 15 American Memory sites containing related materials. The site can be searched by keyword and browsed by geographic location, subject, map creator, title, and railroad lines. This site is ideal for students and teachers interested in the history of railroads, cartography, and transportation in the United States.