At a Glance
Description
View 179 images of Catholic missionary and Native American life in Arizona.
Producer
Patricia A. Etter, Arizona State University
Mission to Arizona, 1916–1940: Father Augustine Schwarz, O.F.M.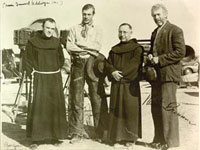 This exhibition presents photographs taken by Father Augustine Schwarz (1887–1946) while he served as a Catholic missionary to American Indians in Arizona. The images, donated by the Schwartz family, depict missionary scenes and workers, church buildings, and other landmarks.
The site focuses on three American Indian groups—Pima, Papago, and Apache Indians—and serves as an accessible portal to Catholic missionary activities among those three groups. Many of the photographs are accompanied with brief descriptions and annotations by Father Schwarz. A brief biography of Father Schwarz is included.
Along with images of Whiteriver Apaches of northern Arizona taken by Father Schwarz's brother, Arnold Schwarz, the entire collection consists of 179 images.