At a Glance
Description
What contributions has bacterial geneticist Joshua Lederberg made to science and healthcare?
Website
Producer
National Library of Medicine
The Joshua Lederberg Papers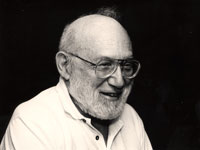 Provides nearly 12,300 documents pertaining to Nobel Prize-winning geneticist and microbiologist Joshua Lederberg (b. 1925), acclaimed for his work in molecular biology and the genetics of bacteria. Most of the material dates from 1945 to the present. Includes more than 10,300 pieces of correspondence, more than 550 articles, 19 lab notebooks, 228 newspaper columns, 48 speeches, 55 monographs, 28 essays, 32 official reports, 83 photographs, and 9 video clips. An exhibit orients visitors to Lederberg's important work in bacterial and cellular genetics, artificial intelligence and expert systems, exobiology ("the study of life outside the atmosphere"), emerging infectious disease and biological warfare (Lederberg was a critic of biological warfare research), and health and the future. The site is fully searchable. Valuable for those studying the history of science and social policy.