At a Glance
Description
One convenient source for major historical U.S. documents.
Website
Producer
Dr. Lynn H. Nelson
AMDOCS: Documents for the Study of American History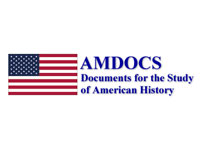 Provides links to approximately 390 documents, most of which are related to the nation's political, diplomatic, military, and legal history. Arranged chronologically, the site begins with excerpts of Christopher Columbus' journal of 1492 and ends, at present, with President George W. Bush's May 1, 2003 address announcing the end of major combat operations in Iraq [update: documents reach from around 800 to 2007]. Includes speeches, statutes, treaties, court decisions, memoirs, diaries, letters, published books, and even a few songs. The site, created by Lynn Nelson, Professor Emeritus of History, University of Kansas, is valuable especially for high school and college students who need easy access to many of the canonical documents in American history.