At a Glance
Description
Midwest teacher looking for local history primary sources? Try these nine digital collections.
Producer
Augustana College Library, Special Collections
Augustana College Library, Digital Projects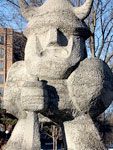 This website presents thirteen "Digital Projects" curated by librarians at Augustana College in Rock Island, IL.
The projects, most with a regional focus on Western Illinois, include: the Upper Mississippi Valley Digital Image Archive, Civil War Diaries (two diaries kept by Union Army soldiers who served near Vicksburg, MS), Early Pioneer Biographies (transcripts of 15 interviews with early settlers of the region), Farm Life (roughly 75 images of farm implements, animals, personalities, and vehicles, including the John Deere homestead), Native Americans (50 images of and interviews with local Black Hawk Indians), Quad City Views (more than 100 photographs of parks, churches, and streets in Davenport and Bettendorf, IA, and Moline and Rock Island, IL from the early 20th century), Transportation (roughly 75 images of regional animals, cars, trucks, trains, busses, trolleys, and boats in the early to mid-20th century), Town and County in Miniature: Color Plate Books at Augustana, and Cardinal Pole's Mission to England.
The Digital Image Archive is the website's largest collection, containing more than 7,000 photographs, drawings, and paintings drawn from several local academic and public libraries. These images range in date from just after the Civil War through the 1950s, and include portraits of prominent local leaders and families, sports teams and social clubs, as well as images of architecture and natural landscapes.
Town and County in Miniature is an online exhibition providing an overview of the color plate book, an illustrative form especially popular in 19th-century Britain, and its dominant genres of topography and travel, caricature, and sport.
Cardinal Pole's Mission is an online exhibition centered on a manuscript containing the correspondence of Reginald Pole (1500–1558) during two diplomatic missions from the Pope, with content created by Augustana College history students.