At a Glance
Description
Present Helen Keller's story in more detail with photographs and historical background.
Website
Producer
American Foundation for the Blind
Helen Keller Kid's Museum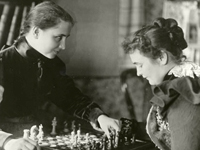 The main feature of this website is an exhibit presenting the story of Helen Keller's life through five exhibits. Each exhibit offers text and photographs that examine a different period of her life from childhood through her career as a champion of the blind and a world figure. Together, the exhibits contain more than 30 photographs. "Who Was Helen Keller" offers a short Helen Keller biography; a recommended reading list with 19 books, including seven works by Helen Keller; a link to a free version of Keller's The Story of My Life; some fun facts and quotes; and a link to the Helen Keller Archives. The site also includes a chronology of Keller's life. This website is an excellent aid to teaching children the inspiring story of Helen Keller's life.