At a Glance
Description
Consider assigning contextual reports on the lives of individual slaves.
Website
Producer
ibiblio.org, Center for the Public Domain, University of North Carolina, Chapel Hill
Afro-Louisiana History and Genealogy, 1718-1820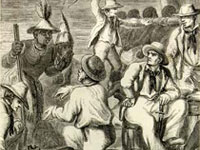 Provides detailed data on more than 100,000 slaves and free blacks in Louisiana from 1718 to 1820 gathered from notarial documents by historian Dr. Gwendolyn Hall. Users can search by name of slave, master's name, gender, epoch, racial designation, plantation location, and place of origin. Each record retrieved pertains to an individual slave. Information was compiled from documents created when slaves arrived by ship, were bought and sold, reported as runaways, testified in court cases, manumitted, and at the death of masters and in other circumstances. As French and Spanish records often were more detailed than those kept by the British, the amount of information provided is relatively extensive. Some records contain as many as 114 fields with information on name, birthplace, gender, age, language group, alleged involvement in conspiracies, skills, family relationships, and illnesses, among other categories. Dr. Hall's analysis documents 96 different African ethnicities of slaves in Louisiana during this period.
The site additionally offers tables and graphs presenting Dr. Hall's calculations concerning the data collected and presents results from three useful searches: on African names, individual slaves involved in revolts or conspiracies, and runaways. Seven examples of original documents are displayed, and downloads of complete databases on Louisiana slaves and free blacks are available. An extremely valuable site for professional historians, anthropologists, geneticists, and linguists, in addition to people conducting genealogical searches.