At a Glance
Description
Analyze data from the U.S. Census Bureau in the social studies classroom.
Producer
U.S. Census Bureau
Statistics in Schools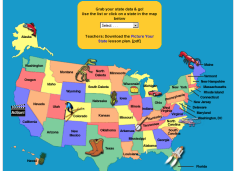 This website makes U.S Census data accessible to K-12 social studies students through 20 classroom activities. Divided by grade-level, these activities trace change over time in the United States using statistics. Activities address civil rights, continental expansion, the treatment of Native Americans, immigration, and other topics related to demographic change.
With schools placing a greater emphasis on the STEM fields, these activities are helpful for social studies teachers who are trying to make cross-curricular connections. Each activity requires students to analyze data to draw conclusions, clearly demonstrating how teachers can use non-textual primary sources to encourage historical thinking in the classroom.
These activities are also very clear about which standards (Common Core and UCLA National Standards for History), skills, and level of Bloom's Taxonomy they address. However, it would be helpful if it were possible to search activities based on at least one of these categories, rather than by grade range only. Nevertheless, a well-designed website with well-written activities for thinking historically with diverse types of sources.