At a Glance
Description
Try lesson plans based on the Library of Congress' American Memory collections.
Website
Producer
American Memory, Library of Congress
American Memory Learning Page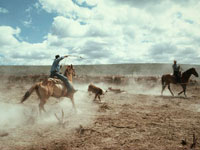 Designed to provide support for elementary, middle, and high school history teachers, this site makes the entire American Memory collection at the Library of Congress available for classroom learning. Using the more than 7 million digital sources available through American Memory's 100 collections, the creators have written and collected 140 lesson plans for teaching American history. Organized chronologically and thematically, the lesson plans are detailed suggestions for classroom activities. Each has a recommended age group and uses primary sources collected by students or teachers from American Memory.
Especially useful are the included guides on using primary sources, using American Memory resources, and using digital or Internet sources in the classroom. A "Professional Development" section offers online workshops and tutorials to improve teachers' digital literacy. An excellent resource for the classroom, this site would be useful to both student and teacher.