At a Glance
Description
Get classroom attention by using the "swashbuckling" history of the USS Constitution as a knowledge vehicle.
Website
Producer
USS Constitution Museum
All Hands on Deck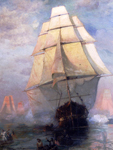 The USS Constitution Museum developed All Hands on Deck as a means of introducing K–12 educational elements across subjects (math, art, and more) using the history of one of the United States' most renowned military vessels, the USS Constitution.
The website itself is somewhat disorganized. However, there are a plethora of lesson plans embedded within it for students of any grade level.
The available lessons are divided into five sections—preview activities (to determine pre-existing knowledge), the building of early U.S. military frigates, the War of 1812 and the Barbary Wars, 1800s life aboard a warship, and the lasting legacy of the USS Constitution. These sections have subsections, within which you can find individual lessons intended for grades K–4, 5–8, and 9–12. Alternatively, visiting "How to Use This Online Curriculum" includes a linked list of states. Clicking on any of the available states—IL, MD, WA, SC, TN, MO, TX, NM, CO, MT, and VA—offers a list of the activities available on the website which correlate with state standards. The individual subsections also include recommended field trip sites, films, books, games, music, and more; as well as anecdotes, literature, and other "grab bag" additional items of interest.
The Image Gallery offers a smattering of paintings, illustrations, and photographs of the vessel and its officers. The gallery also contains a single newspaper recruitment ad dating to 1798.
Educators who would prefer a tangible copy of the curriculum can send an electronic request.
Alternatively, you may want to brush up on your USS Constitution history yourself. In that case, the website offers a 19-minute video in which a young girl meets a variety of figures aboard the ship—a captain's wife, a powder monkey, and an African American sailor among them.