At a Glance
Description
Teaching exploration? Why not introduce your students to nautical charts?
Producer
Office of Coast Survey, National Oceanic and Atmospheric Administration (NOAA)
Historical Map and Chart Collection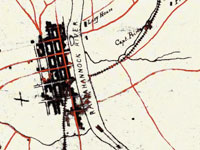 Provides more than 1,000 historical maps and nautical charts—mostly from the 19th century—produced or acquired by the Office of Coast Survey. Includes a Civil War collection of approximately 500 maps; a 90-sheet 1888 topological survey of the Washington, D.C. area; a 48-sheet topological survey of Cincinnati made in 1912; and 16 facsimiles of explorer George Vancouver's charts of the Pacific Northwest made between 1791 and 1798. Additional resources include 27 maps of the Erie Barge Canal made between 1917 and 1923; a 43-sheet survey of the Mississippi River made between 1868 and 1880; and approximately 50 sketches of landscape areas along both coasts. Maps can be viewed at 100 dpi or downloaded at 300 dpi. Organized by region and type of map. Valuable for those studying the Civil War, Washington, D.C., history, and various water-related government projects of the 19th century.