At a Glance
Description
More than 30,000 photographs capture life in Colorado from 1860 to 1920.
Producer
American Memory, Library of Congress and Denver Public Library
History of the American West, 1860-1920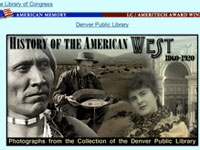 More than 30,000 photographs of Colorado towns, landscapes, mining scenes, and American Indian tribes, taken between 1860 and 1920, are featured on this website. Approximately 4,000 images deal with the mining industry, including labor strikes, while 3,500 photographs depict Indian communities from more than 40 tribes west of the Mississippi River.
Special presentations include a gallery of over 40 photographs depicting the dwellings, children, and daily lives of Native American women; more than 30 images of buildings, statues, and parks in Denver built in conformance with the turn-of-the-century "City Beautiful" movement; and 20 World War II-era photographs of the Tenth Mountain Division, ski troops from Colorado who fought in Italy. Each image in these special exhibits is accompanied by a brief description. There are also biographies of three Western photographers.