At a Glance
Description
Teaching Abraham Lincoln and the Civil War? Explore this storehouse of Lincolnian history.
Producer
Illinois Historic Preservation Agency
Abraham Lincoln Presidential Library and Museum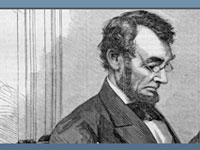 This website serves as an introduction to the Abraham Lincoln Presidential Library and Museum in Springfield, IL.
In addition to logistical information on visiting the library and museum (including floor plans, photographs, tips on planning school visits, exhibit information, and archival collection descriptions especially useful for researchers), the website also presents a substantial amount of digital material on Lincoln's life and times and Illinois history more generally.
New users may want to begin with an extensive timeline documenting major events in Lincoln's life. Teachers will be especially interested in the resources available in the website's Education section, which includes extensive guides to teaching the Gettysburg Address, teaching with objects, women's history, African American history, and celebrating Christmas at the White House.
The website also includes a Boys in Blue database of many Illinois soldiers who fought for the Union during the Civil War, as well as an oral history project documenting the lives of Illinois citizens from all walks of life. Current topics include war veterans and agriculture, with plans to include hundreds more interviews on statecraft, war and terror, family memories, and African American history.