At a Glance
Description
Read the letters of Dolley Madison while learning about her life—from childhood to widowhood.
Website
Producer
Holly Shulman, Virginia Center for Digital History
Dolley Madison Project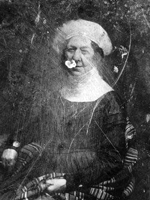 This attractive and easy to navigate website focuses on the life and legacy of First Lady Dolley Payne Todd Madison, wife of James Madison. There are two main sections. "Resources" includes four short background essays on different periods of Dolley Madison's life; a timeline and chronology of her life; a short essay explaining the controversy over Dolley Madison's first name; an alphabetical listing of her correspondents with biographical sketches; and a link to the National First Ladies' Library page on Dolley Madison with a bibliography and lesson plans. "Exhibit" offers four presentations focused on Dolley Madison's life: early years, years in Washington, years at Montpelier during her husband's retirement, and widowhood. Each has a background essay, selected letters, an image gallery (41 images total), and a timeline. There is also a link to the Dolley Madison Digital Edition, a fee-based archive containing "the first-ever complete edition of all her known correspondence." Additionally, there is a section on the use of Dolley Madison's name and image in popular culture with a collection of 27 images. A useful information resource for those interested in Dolley Madison or teaching about her life.