At a Glance
Description
Explore the layout and businesses of turn-of-the-century Dallas.
Producer
Texas, Dallas History and Archives Division, Dallas Public Library
Murphy and Bolanz: Block and Addition Books, Dallas County 1880-1920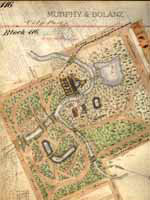 The Murphy and Bolanz Company, a Dallas real estate firm established in 1876 that was the official mapmaker for the City of Dallas, produced a set of maps that are detailed and rare. This site, made possible by a grant from the Texas State Library and Archives Commission, is an online version of the Murphy and Bolanz maps, a nine-volume collection of approximately 3,500 maps. Although currently only three of the volumes are available through the site, all nine will eventually be digitized. The voluminous collection consists of details of each block in Dallas and some of the surrounding suburban towns, including original maps of most towns and communities in Dallas County from the 1880s to the 1920s. These maps contain layouts for neighborhoods, the name, and date of original property owners, as well as sites of early schoolhouses, streetcar lines, businesses, and parks. Users will find African-American, Jewish, and Catholic cemeteries depicted on the maps and the sites of early Dallas businesses, such as Neiman Marcus, Sanger Brothers, and Adolphus Hotel.
The site is searchable by index or by street name, personal name, building name, railroad, or geographic feature. This unique online collection holds enormous research potential for historians and genealogists, but also for preservationists who will value the abundance of architectural and structural information and for legal researchers who will find the early property ownership details indispensable. The maps are also a great resource for geography teachers and students.