At a Glance
Description
Check out the music scene, communes, and protests of the 1960s.
Producer
Smithsonian Institution, National Museum of American History
A Visual Journey: Photographs by Lisa Law, 1965-1971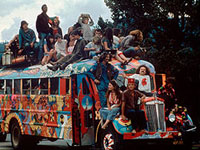 This lively exhibit offers images from the 1960s counterculture as seen through the lens of photographer Lisa Law's camera from 1965 to 1971. The site covers the 1960s folk and rock music scenes, California's counterculture, and commune life in New Mexico in eight chronological sections. The "Introduction" provides an entree into the era of the 1960s; "Photographic Beginnings" outlines Law's background in the music industry, her marriage to John Law, manager of the band Peter, Paul, and Mary, and the start of her photography career. "The Castle" chronicles the Laws' sojourn in a Los Angeles group house in which many artists and creative individuals like Bob Dylan and Andy Warhol rented rooms. "The Counterculture" illustrates the unconventional appearance, sexual liberation, and drugs that characterized the 1960s; "Social Activism" offers images of the avenues for members of the counterculture to express social and political beliefs through protests of the Vietnam War, racial injustice, and materialism. "Communal Living" illustrates the utopian communal lifestyles that many members of the counterculture found attractive. "Organizing Woodstock" is a unique look inside the legendary music and art festival that Law helped organize; and the "Afterword" summarizes Law's life and photography career from the mid-1970s to the present, as she continues to document and work for social causes.
Each section offers a 250-300 word summary of the theme and 4-8 photographs. A "What Else was Happening" link provides a timeline that covers the social, political, and popular culture highlights of each year from 1963 to 1973. This site includes a warning that adults might want to speak to children about the 1960s counterculture to contextualize the images on the site before allowing young children to explore it. For students and teachers interested in the popular culture and counterculture of the 1960s, this site offers compelling and colorful images.