At a Glance
Description
Learn about the history of the United States up to 1815 with this website dedicated exclusively to early American history.
Website
Producer
Omohundro Institute of Early American History and Culture
Omohundro Institute of Early American History and Culture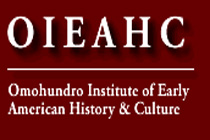 Introduces the Omohundro Institute, "the only organization in the United States exclusively dedicated to the advancement of study, research, and publications bearing on the history and culture of early America to approximately 1815." The site provides background information about the institute, including descriptions of its fellowships, publications, conferences, and colloquia.
Also provides tables of contents and texts of selected book reviews from recent editions of The William and Mary Quarterly, articles from Uncommon Sense, and four links to related resources—including one to the Institute's own online discussion forum, H-OIEAHC, which offers 13 syllabi for undergraduate courses on early American history, a bibliography of approximately 50 titles, and links to 102 libraries, museums, historical societies, organizations, online exhibits, and collections of documents pertaining to the period. These latter materials can be valuable to students and teachers of the early American period.