At a Glance
Description
Learn about the New Deal through the Federal Theatre Project, designed to employ actors during the Great Depression.
Producer
American Memory, Library of Congress
New Deal Stage: Selections from the Federal Theatre Project, 1935-1939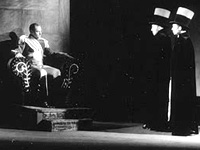 Offers more than 13,000 images of items relating to the Works Progress Administration's Federal Theatre Project (FTP), a New Deal program designed to provide work for unemployed theater professionals. The collection contains 71 playscripts and 168 documents from the FTP's Administration Records. Extensive materials, including photographs, scripts, posters, and set and costume designs, have been selected from three significant productions: Macbeth and The Tragic History of Dr. Faustus, directed by Orson Welles, and Arthur Arent's Power, an example of the Project's innovative "Living Newspaper" series of topical plays. The site includes a 3,500-word background essay, as well as four illustrated articles about the Project. A FTP Collection finding aid describing more than 525,000 offline items may be downloaded, but is not currently searchable.