At a Glance
Description
Trace U.S.-China relations from the 60s through present day.
Producer
Jeffrey T. Richelson, ed., National Security Archive
China and the United States: From Hostility to Engagement, 1960-1998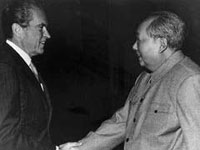 Presents 15 annotated U.S. government intelligence documents—most of which have been declassified through Freedom of Information Act requests—that illuminate various phases of the evolving U.S.-China relationship from the Cold War period to the recent past. These materials have been selected from a published microfiche collection of more than 2,000 documents. The site offers memoranda and directives on U.S. fears concerning China's weapons program; President Nixon's rapprochement in 1972; the changed U.S. policy regarding Taiwan; U.S. concerns over the sale by China to Saudi Arabia of intermediate-range ballistic missiles; human rights issues; and the resumption of a military relationship between the two powers after a falling out over Tiananmen Square. Includes a White House memo of the conversation held at the first meeting between Nixon and Chairman Mao Zedong, a message by President Ford to Mao on the day of Nixon's resignation, and two biographies of Chinese officials. Valuable for those studying U.S.-China relations and the role the U.S. intelligence community has played in that history.