At a Glance
Description
Read this quarterly journal which focuses on a different topic in American History in each issue.
Producer
Gilder Lehrman Institute of American History
History Now: American History Online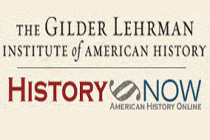 A quarterly journal inaugurated in September 2004 designed to "promote the study of American history" with articles by historians and teaching resources. Past issues on elections, primary sources on slavery, immigration, and American national holidays are also available on the site.
Each issue has six main features. "In This Issue" provides an introduction and overview. "The Historian's Perspective" offers four to six scholarly essays by noted historians on the issue's topic. "From the Teacher's Desk" has lesson plans for high school, middle school, and elementary school levels with links to related websites. "Interactive History" provides either timelines, quizzes, or interactive maps. The "Digital Drop Box" allows site visitors to post comments, suggestions, sample lesson plans, or stories from the classroom. "Ask the Archivist" has suggested sources and a section for questions and answers.