At a Glance
Description
If you're searching for 9/11 materials, this website offers easy access to materials across the Library of Congress's collections.
Producer
Library of Congress
Witness and Response: September 11 Acquisitions at the Library of Congress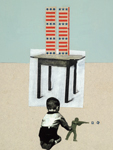 The Library of Congress is a well-known and respected content source for the classroom. However, given the wide variety of collections, searching for items on a given topic can be time-consuming. This website links visitors to the library's September 11 resources by collection, so there's no need to run multiple searches.
First and foremost, the website is dated. However, this is no reason to assume that it is without worthwhile content. The exhibit and memorial events it advertises are long past, so the exhibition overview and public programs sections are only useful as primary sources. That said, the collection links are the heart of the site. The American Folklife Center offers a video presentation on the Library of Congress's personal account collection and three drawings by children. For a small collection of chapbooks, a poster, and newspaper clippings, try the Area Studies/Overseas Field Offices collection. The Geography and Map Division provides aerial and fly-through views of the Twin Towers site, while the Prints and Photographs Division's offerings are the most extensive, with posters, fine art, photography, architectural proposals for new World Trade Center designs, political cartoons, and comic book art. Rare Book and Special Collections houses only two photographs of Kitty Caparella's book art, The Message; while the Serial and Government Publications Division's page holds three U.S. newspaper pages announcing the attacks and a video on the Library of Congress's 9/11 newspaper collection.
While the resources are limited, educators who need to find 9/11 materials quickly should consider taking a few minutes on this Library of Congress portal site, particularly if they are interested in items from the Prints and Photographs Division.