At a Glance
Description
What exactly is freedom, and who possesses it?
Producer
WNET New York, PBS
Freedom: A History of Us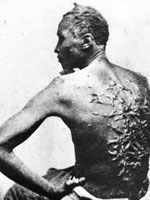 This site complements the 16-part PBS television series of the same name. Based on Joy Hakim's award-winning U.S. history textbook series, the site explores the theme of freedom chronologically from the American Revolution to the Civil Rights movement and concluding with the inauguration of George W. Bush. Designed to help teachers find lesson plans or design their own curriculum, the site includes sample activities and historical primers, each based on one of the 16 "Webisodes," such as "Liberty for all?" or "Whose land is this?" Teachers can search for lesson plans by Webisode or by multiple subject matters, from mathematics to physical education. There is also an interactive timeline that links to photographs, paintings, biographies, and quizzes. The site is visually and textually rich, but most valuable for K-12 teachers and students.