At a Glance
Description
Explore women's political history and activism from the 1960s onward.
Website
Jo Freeman.com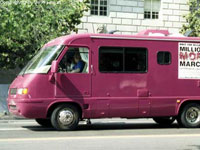 A collection of articles and photographs by Jo Freeman, feminist activist, analyst, reporter, and political consultant from the 1960s to the present-day. Offers more than 70 articles—most of which have been published previously—arranged in 13 categories. These include the feminist movement; women's political history; women, law, and public policy; and social protest in the 1960s. Freeman, who worked on the Senator Alan Cranston 's campaign staff during his 1984 run for president, also offers her diary that reveals day-to-day details of campaign life. Freeman's recent writings for Senior Women Web offer her perspectives on current issues.
Also includes more than 40 photographs taken by Freeman at the Democratic conventions of 1964 and 1968; the 1966 "March against Fear," led by James Meredith; Eugene McCarthy's 1968 presidential campaign; and flags displayed at Brooklyn locations in response to the September 11, 2001, attacks. A 2,300-word biographical essay by historian Jennifer Scanlon provides a cogent summary of Freeman's public life and thought. The site is word-searchable and provides 30 links to politically-oriented sites. Of interest to those studying U.S. women's history and political activism since the 1960s.