At a Glance
Description
We all know what the Social Security Administration does, but do you know how it was formed?
Website
Producer
United States Social Security Administration
The History of Social Security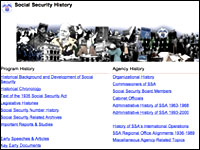 The Social Security program and the institutional history of the Social Security Administration (SSA) and its contribution to the welfare of the American public are presented on this site. It contains a vast collection of oral histories, audio recordings, and primary documents of the SSA. The audio and video clip section includes radio debates on the merits of the Social Security program taped during 1935, Lyndon B. Johnson's remarks on the passage of the Medicare bill in 1965, and Ronald Reagan's remarks at the signing of the Social Security Amendments of 1983. Also available are Lyndon Johnson and Richard Nixon's recorded telephone conversations that reference Social Security and Medicare. Another notable feature is the 37 oral history interviews conducted by SSA in the late 1960s and early 1970s. Additional oral history collections are featured, providing information about the 1977 creation of Health Care Financing Administration and policy issues involving the Medicare and Social Security programs.