At a Glance
Description
This site contains sources covering and reacting to the deplorable 1898 massacre in Wilmington, NC.
Producer
Karin L. Zipf, East Carolina University
Politics of a Massacre: Discovering Wilmington 1898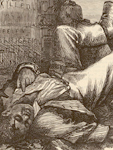 On November 10, 1898, Wilmington, NC, experienced what has come to be known as the only coup d'etat in United States history, when white supremacist members of the Democratic Party overthrew the municipal government and killed anywhere between six and 100 African Americans in the city, which at that time had a large, thriving African American population supported by the biracial Republican Party.
This website narrates the history of this event, from the rising racial tensions surrounding the passing of the 14th and 15th Amendments and court disputes over miscegenation and interracial marriage, through the contentious election politics of 1898 that pitted the Democratic Party, supported by white supremacists, against the Republican and Populist Parties that represented African American interests at the local level, and the riot on November 10, through the legacy of the riot in the months and years to come, including the rise of segregationist Jim Crow laws.
Each section is illustrated with links to primary sources, including political cartoons, newspaper clippings, laws, court cases, and photographs of prominent Wilmington African Americans.
The website also includes the 1898 Wilmington Race Riot Report published in 2006 by the North Carolina Department of Cultural Resources' Wilmington Race Riot Commission, which includes maps, photographs, and other primary source materials, and a link to an interactive map allowing visitors to visualize the events of November 10, 1898.