At a Glance
Description
Peruse 11 exhibits, from the Gold Rush of 1849 to Japanese American internment during WWII.
Producer
Gladys Hanson, Curator
Museum of the City of San Francisco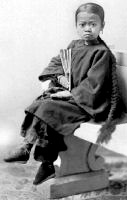 These 11 exhibits address the history of California and San Francisco. Topics include the Gold Rush of 1849; earthquakes of 1906 and 1989; the history of the city's fire department; construction of the Golden Gate and Bay Bridges; and the internment of Japanese Americans during World War II. These exhibits provide timelines and links to more than 200 primary documents and images, including newspaper articles, diary entries, oral histories, photographs, political cartoons, and engravings. Two exhibits are hyperlinked chronologies pertaining to San Francisco during World War II and the rock music scene in the city from 1965 to 1969.
Documents can be accessed according to subject, with more than 25 documents listed on the Chinese-American community, fairs and expositions, and labor issues. The site also contains more than 150 biographies of prominent San Franciscans.