At a Glance
Description
Wisconsin educators, search the online collections of the oldest American historical society for primary sources.
Producer
Wisconsin State Historical Society
Wisconsin State Historical Society Online Collections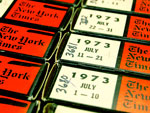 Founded in 1846 and chartered in 1853, the Wisconsin State Historical Society is the oldest American historical society to receive continuous public funding. This website provides a host of online collections containing thousands of documents and images addressing Wisconsin's social, political, and cultural history, drawn from the Historical Society's collections.
Highlights include full-text access to 80 histories of Wisconsin counties, and 1,000 more articles, memoirs, interviews, and essays on Wisconsin history and archaeology first published between 1850 and 1920; thousands of articles from the Wisconsin Magazine of History; and hundreds of objects form the Society's Museum, including moccasins, dolls, quilts, ceramics, paintings, and children's clothing.
Other objects can be viewed at the website's Online Exhibits section, which includes objects from exhibits on Presidential elections, Wisconsin's Olympic speed skaters, the Milwaukee Braves, Jewish women, and family labor in Milwaukee after World War II.
The website also provides a vast collection of images available through Wisconsin Historical Images, including photographs, drawings, and prints relating to both regional history, as well as more national histories of 19th-century exploration, mass communications, and social action movements.