Broadcasting Longevity
Question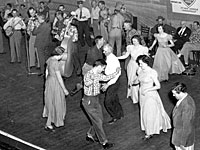 What was America's longest-running radio show?
Answer
In 1925, Nashville radio station WSM went on the air. Like many early radio stations, it was the voice of a particular commercial enterprise—in this case, the Nashville-based National Life and Accident Insurance Company, which was looking to move beyond sickness and accident insurance into life insurance. WSM program director George D. Hay, who had previously been an announcer on the Barn Dance on a Chicago radio station, organized a Saturday-night show which was also called the "barn dance." Live performances ranged from minstrel acts to military bands, but old-time or traditional string bands performing country music dominated.
The show that preceded the barn dance was a classical music program called the Music Appreciation Hour. One night in 1927 Hay introduced the barn dance by saying, "For the past hour you have been listening to music taken largely from the Grand Opera, but from now on we will present the Grand Ole Opry." The name stuck, and it continued to be broadcast under that name for the next six decades.
Although some "proper" Nashville residents thought the show was not in tune with the city's genteel reputation, it soon became wildly popular. A new radio tower built in 1932 allowed WSM to reach most of the nation with the show, although southerners remained the core of the audience. Whereas commercial media like radio have sometimes been seen as a threat to "traditional" cultures, WSM and the Grand Ole Opry spread and preserved (while it also transformed) southern white rural music.