At a Glance
Description
Geared toward K-12 education, this site presents antebellum life in Tennessee through letters and images.
Producer
University of Tennessee Digital Library Center
Tennessee Documentary History Collection, 1796-1850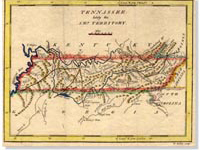 This archive assembles more than 1,600 primary sources, including letters, family papers, reports, and images, relating to the history of antebellum Tennessee. Visitors can browse the archive by collection or author, or they can use the simple keyword search or a variety of advanced searches to locate specific documents. Included in the collections are 142 letters, reports, and other documents, including the correspondence of Cherokee chiefs and officials such as John Ross. The archive also includes letters of such antebellum Tennessee figures as Sam Houston, James K. Polk, John Sevier, and Andrew Jackson, as well as letters to and from 12 antebellum Tennessee governors. The archive offers 79 images, many of various aspects of Cherokee village life in the mid-18th century. Though primarily focused on an audience of K-12 teachers of Tennessee history, academic historians and researchers in antebellum political and social history will also find this material useful.