At a Glance
Description
Slavery in Canada? Who were these people? What were their lives like?
Website
Producer
Canadian Studies Program, Ministry of Canadian Heritage
Slavery in Canada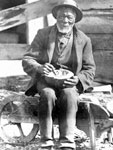 This website covers a topic that often goes overlooked—that slavery spread as far north as Canada.
Resources include portions of a slave autobiography; slave narratives; Underground Railroad stories and songs; articles from abolitionist newspapers; short timelines (1600-1699, 1700-1799, 1800-1899, and 1900-present); more than 60 biographies of slaves; 10 images, including maps, photographs, artworks, and newspaper scans; radio and documentary links; and a collection of web links relevant to the topic. The included glossary and chapter quizzes are not currently working.
However, the site could prove useful for locating primary sources which attest to the geographical breadth of slavery in North America.