At a Glance
Description
Explore writer-photographer William P. Gottlieb photographs of 1938–1948 jazz culture.
Producer
American Memory, Library of Congress
William P. Gottlieb: Photographs from the Golden Age of Jazz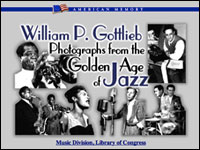 Writer-photographer William P. Gottlieb (1917–2006) documented the New York and Washington, D.C. jazz scene from 1938 to 1948 in more than 1,600 photographs. During the course of his career, Gottlieb took portraits of prominent jazz musicians—including Louis Armstrong, Duke Ellington, Charlie Parker, Billie Holiday, Dizzy Gillespie, Earl Hines, Thelonious Monk, Ella Fitzgerald, and Benny Carter—and legendary venues, such as 52nd Street, the Apollo Theatre, Cafe Society, the Starlight Roof, and Zanzibar. The site also features approximately 170 related articles by Gottlieb from Down Beat magazine; 16 photographs accompanied by Gottlieb's audio commentary on various assignments; a 4,300-word biography based on oral histories; and a 31-title bibliography. Extremely valuable for jazz fans, music historians, musicians, and those interested in urban popular culture.