At a Glance
Description
This site offers a grab bag of digital history exhibits. Definitely worth perusal.
Website
Producer
Clio Visualizing History
Clio Visualizing History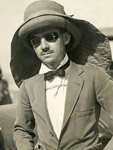 This website provides free access to a variety of visual materials and "seeks to illustrate the unique role of visual images in American history." Clio is an educational organization developing American history projects with appeal to a wide audience, including students, educators, and researchers. This site aims to not only provide access to a variety of visual historical materials, such as photographs, illustrations, and material objects (namely quilts), but also "to promote visual literacy by exploring the variety of ways that images enhance our understanding of the past and challenge us to hone our interpretive skills."
The website is organized into three main sections. The first, "Visualizing America," includes two collections of modules, titled "Picturing the Past: Illustrated Histories and the American Imagination, 1840–1900," and "Quilts as Visual History." A second section, "Photography Exhibits," includes three photography collections: one focusing on the work of Frances Benjamin Johnston, another on the work of the Allen Sisters (Mary and Frances Allen), and the Peter Palmquist Gallery. A third section, "Creating History," examines the figure of Lowell Thomas, who became one of America's best known journalists, as well as the media version and reality of Lawrence of Arabia.
An additional section concerning women's history and lives in the 21st century and second half of the 20th century is planned for 2013.
A valuable website to students and researchers alike, it suffers only slightly from a lack of search capabilities.