At a Glance
Description
There's far more to West Virginia than stereotypes suggest. Why not take some time to explore the state?
Producer
West Virginia Humanities Council in Charleston, WV
e-WV: The West Virginia Encyclopedia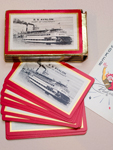 Take some time on this guide to all things West Virginia. This website offers a plethora of articles from "Abolitionism" to "John Zontini." To aid your search, you can sort through articles by topical category, alphabetical order, selecting "random article," or running a keyword search for specific interests. Your search will return media as well as text results, nicely sorted into separate categories. Articles are brief, but cross-referenced; and they also include citations and images, when available and appropriate.
The encyclopedia also includes larger sets of information and images referred to as exhibits. Topics include steamboats, John Henry, the Kanawha County Textbook Controversy, the Hatfield-McCoy Feud, coal mining, historic preservation, the Swiss community of Helvetia, the Greenbrier resort, and labor. A similar feature offers a handful of historical West Virginia maps.
Want something more interactive? Try the thematic 10-question quizzes, forums, or interactive maps and timelines.