At a Glance
Description
Are you interested in cartography or the natural and social environment of early Minnesota?
Website
Producer
Minnesota Historical Society
Minnesota Maps Online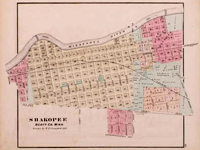 This site allows the visitor to search and view Minnesota's original public land survey plats created by the U.S. Surveyor General's Office during the years 1848 to 1907 and the later General Land Office and Bureau of Land Management maps of the state. The collection includes more than 3,500 original land survey maps; an 1873 map book of Hennepin County; late-19th-century plat books of Dakota, Hennepin, Ramsey, and Winona counties; and an 1871 illustrated historical atlas of Minnesota. Browse all the maps and plats or search the collection by county, township/range, or keyword. The advanced search feature allows the researcher to search the collection by title, subject, description, creator, publisher, date, source, or coverage. A useful resource for those researching the social, economic, environmental, or political history of Minnesota and its counties and towns.