At a Glance
Description
Listen to the recordings of the creator of the microphone and gramophone player.
Producer
American Memory, Library of Congress
Emile Berliner and the Birth of the Recording Industry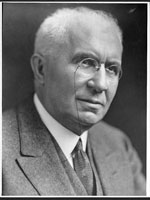 Presents 108 sound recordings produced in the mid- to late 1890s by pioneer recording manufacturer and inventor Emile Berliner (1851-1929) as well as more than 400 additional items from the inventor's papers. Berliner, based in Washington, D.C., developed the microphone, the gramophone player, and the flat recording disc. The recordings on the site—each averaging about two minutes in length and available in Real Audio, MP3, and WAV formats—include Western music (band and orchestra, instrumentalists, popular music vocalists and vocal groups, classical and opera, and foreign language songs), spoken word selections (comedy, speeches, addresses), and a variety of ghost songs and dances of Native American peoples recorded by ethnologist James Mooney. Selections include Buffalo Bill Cody's "Sentiments on the Cuban Question," recorded in April 1898; John Philip Sousa's band; humorist Cal Stewart relating one of his popular "Uncle Josh" stories; and Victor Herbert's 22nd Regiment Band.
Most of the other items—articles, books, catalogs, clippings, correspondence, diaries, lectures, notes, pamphlets, patents, photographs, scrapbooks, and speeches—are from the 1870s to the early 1930s. Also includes a 23-title bibliography, links to eight related sites, a timeline, a family tree, and three informative essays (2,000-4,000 words) on Berliner's life, the history of the gramophone, and the Library's collection of Berliner recordings. A valuable site for those studying the beginnings of the recording industry, turn-of-the-century popular culture, and the milieu of American inventors in the period from the 1870s to the Great Depression.