At a Glance
Description
Explore the relationship between Nixon's love of sports and his actions as US President.
Producer
Nicholas Evan Sarantakes, History Professor, Texas A&M University-Commerce
Nixon and Sports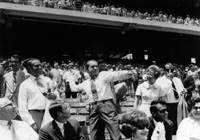 This site explores the not-so-obvious relationship between Richard Nixon's interest in sports, his politics, and his reputation as a public figure. Professional historian Nicholas Sarantakes designed the site as the electronic version of a forthcoming book. A timeline from 1969 to 1974 provides descriptions (5-20 words) on sports-related and other important events in Nixon's presidency. Watergate events, for instance, are intertwined with Nixon's interest in relocating the San Diego Padres to Washington, D.C. In 16 photographs and six cartoons, Nixon is shown as spectator and participant at sporting events. He is quoted talking about sports on 13 different occasions. The site refers visitors to two articles by Sarnatakes on the topic of Nixon and sports. The site may be interesting to cultural historians in general and useful for research in sports history and the history of the presidency in particular.