At a Glance
Description
Looking for a new way to teach history? Peruse new media and educational resources.
Website
Producer
ASHP/CML, The Graduate Center, The City University of New York
American Social History Project/Center for Media and Learning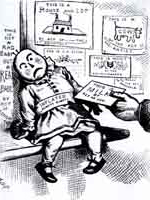 This site introduces the American Social History Project/Center for Media and Learning (ASHP/CML), an organization located at the City University of New York (CUNY) that "seeks to revitalize interest in history by challenging the traditional ways that people learn about the past," with a particular emphasis on labor history and social history. The site includes information about ASHP/CML books, documentary films, CD-ROMs, Internet projects, and educational programs, as well as five articles by staff members and numerous links to history resources.
"Heaven Will Protect the Working Girl: Immigrant Women in the Turn-of-the-Century City" presents selected photographs, illustrations, and accompanying short explanatory texts intended for use with a ASHP/CML documentary of the same name. Among the Project's current endeavors is "an intellectual and spatial exploration of P. T. Barnum's American Museum," entitled The Lost Museum, which burned down under mysterious circumstances in 1865. With the Center for History and New Media at George Mason University, ASHP/CML produces History Matters.