At a Glance
Description
The International Center of Photography (ICP) explores the history of photography and history through photography.
Producer
International Center of Photography
International Center of Photography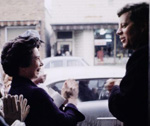 This museum and school was founded "to keep the legacy of 'Concerned Photography' alive" by bringing the work of more than 3,000 photographers and other artists to the public. The Permanent Collection spans the history of photography, from daguerreotypes of the 18th century to gelatin sliver to digital. About 12,000 images from the ICP collection are available digitally via the ICP's eMuseum (with more forthcoming). The database features simple and advanced search options, and can be browsed by collection or person. The eMuseum also includes brief biographies of many of the photographers in the database.
The ICP also recently published a free, downloadable curriculum guide, Focus on Photography, targeted at grades K-12 designed to help educators teach with photographs. There are four sections: "Visual Literacy," "Teaching Photography," "Curriculum Connections," and "Resources." The guide spans topics from general, such as the "Language of Photography," to strategies for using photography to meet educational goals. Specific sections focus on "Photography and History," "Photography and Social Studies," and "Photography and Writing," among others.
In addition to its archival holdings, the ICP hosts an annual lecture series for distinguished photographers to present their work and engage with the public. With video offerings from 1995 to the present, and, audio spanning 1974 to 2000, these lectures encompass the wide range of photography and afford a unique perspective on the craft.
The ICP's quality photo archive and detailed curriculum guide work hand-in-hand to make this an excellent resource for teachers interested in using photography across the curriculum.