At a Glance
Description
Connect with your ELL students with this bilingual Puerto Rico Encyclopedia!
Website
Producer
Puerto Rico Encyclopedia/Enciclopedia de Puerto Rico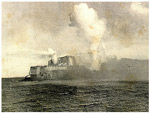 Visitors to this site will find more than 1,000 images and dozens of videos about the history and culture of Puerto Rico. The work of dozens of scholars and contributors, the Puerto Rico Encyclopedia reflects the diverse nature of the island: a U.S. territory, a key location for trade in the Caribbean, a Spanish-speaking entity with its own distinct culture, and a part of a larger Atlantic world. Funded by an endowment from the National Endowment for the Humanities and the Fundación Angel Ramos, the site is a key product from the Fundación Puertorriqueña de las Humanidades. It provides users with all content in both English and Spanish. Educators will find the site easy to navigate and conveniently categorized by themes; within each topic, appropriate subtopics provide an in-depth examination of Puerto Rican culture and history. Of particular interest to U.S. History teachers are the images and information found under History and Archeology. Here, teachers and students can explore a chronological narrative of the island's history and role at specific moments in U.S. and Atlantic history. Other sections worth exploring are Archeology (for its focus on Native American culture), Puerto Rican Diaspora (for its look at Puerto Ricans in the U.S.), and Government (for a detailed history on Puerto Rico's unique status as a free and associated US territory). Educators in other social science courses will also find valuable information related to music, population, health, education, and local government. In all, 15 sections and 71 subsections provide a thorough examination of Puerto Rico. The Puerto Rico Encyclopedia's bilingual presentation also makes it a good site for integrating Hispanic culture into the U.S. History curriculum, as well as helping to bridge curriculum for English Language Learners (ELLs) in the classroom.