At a Glance
Description
Experience a multimedia website that engages learners and makes Tennessee history accessible.
Producer
Tennessee Historical Society, The University of Tennessee Press
Tennessee Encyclopedia of History and Culture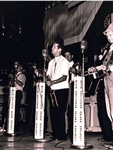 The Tennessee Encyclopedia of History and Culture contains more than 1,500 entries related to both state and national historical themes. In Categories, users can access entries, images, video, audio, and interactive resources from 38 separate thematic subjects (note: not all categories contain each type of resource). In addition, users can also access each item type by selecting the corresponding links in the navigation menu at the top of the page. A list of popular entries and images is also found at the bottom of the page.
The most dynamic aspects of the site are its visual sources and interactive files that can be used in the classroom. Each encyclopedia entry offers specific information about an event, place, or significant person—with any corresponding video, audio, or image linked within the entry page. Users looking at specific themes should search under the "Categories" page, but should be mindful that some categories offer more resources because they are broad in nature. For example, "Civil War" contains three entries specific to the war, along with two videos and an interactive display—whereas "Music" and "Military," more general themes, contain over 100 entries each. Search within the individual tabs to locate additional information.
Created as a collaboration between the Tennessee Historical Society and the University of Tennessee Press, the site achieves its goal: providing a resource for the field of education and the general public.