At a Glance
Description
How did the national government strive to preserve vernacular music?
Producer
American Memory, Library of Congress
Woody Guthrie and the Archive of American Folk Song: 1940-1950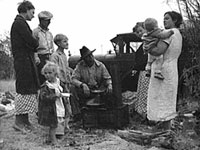 A selection of 53 items of correspondence between folksinger and songwriter Woody Guthrie (1912-1967) and members of the staff of the Library of Congress' Archive of American Folk Song. Consists mostly of letters from the early 1940s between Guthrie and Alan Lomax, at that time in charge of the Archive and who, like Guthrie, was an important force in the movement to document, record, and publicize vernacular American music. Includes scanned images of documents and transcriptions, allowing keyword searching. Also offers a 2,400-word biographical essay; a timeline of Guthrie's life; 14 photographs; a finding aid for the complete Woody Guthrie Manuscript Collection; a 21-title bibliography; and a 15-title discography. Valuable for those studying the histories of American music, radio broadcasting, and government efforts during the Roosevelt era to document American culture.