At a Glance
Description
Peruse this collection of over 900 items relating to Chicago's Hull House to discover its influence on 20th century urban development.
Producer
University of Illinois at Chicago; Jane Addams Hull-House Museum
Urban Experience in Chicago: Hull-House and Its Neighborhoods, 1889-1963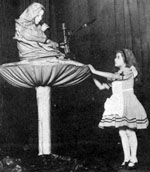 This well-organized website offers more than 900 items related to Hull House—including newspaper, magazine, and journal articles, letters, memoirs, reports, maps, and photographs. Materials are embedded within a clear historical narrative that illuminates the life of Jane Addams in addition to the history and legacy of Chicago's Hull House.
Users can search the site or focus on any of the 100 topics arranged in 12 chapters that begin with settlement life in Chicago in the 1880s and end with the movement after Addams's death. Topics include the reform climate in Chicago; activism within the movement; the immigrant experience of race, citizenship, and community; education within the settlement house; and cultural and leisure activities at Hull House and in Chicago. The site provides a timeline, featuring a pictorial biography of Addams; a geographical section that includes maps of Chicago; and an image section, with 12 photograph sections and essays.