At a Glance
Description
Listen to, read, and sing sources from the Gilded Age canvassing women, religion, and more.
Website
Producer
Digital Projects at Northern Illinois University Libraries
Illinois During the Gilded Age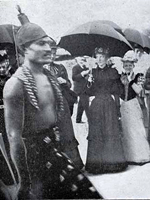 Focused on the Gilded Age in Illinois, this website offers 287 primary source documents. These include political speeches, pamphlets, songs, audio recordings, and maps that deal with such issues as politics, farming, law, labor, religion, and economic development. Visitors can browse all 287 items or search by author, title, date, theme, or genre. Visitors can search text documents, images, or audio files separately. The site also offers 26 video lectures from college professors interpreting the major issues of the period. Lecture topics include John Dewey, Dwight Moody, Chicago Gilded Age culture, women's suffrage, government and reform, the People's Party, William Jennings Bryan, William Mckinley, and the election of 1896.
The site can also be explored through eight historical themes, each with an interpretive essay, a bibliography, a search feature for related primary documents, and a list of related video lectures. The themes are: economic development and labor, labor, law and society, political development, race and ethnicity, religion and culture, settlement and immigration, and women's experience and gender roles. In addition, eight essays cover important periods: 1866-1868 (war's aftermath), 1869-1872 (the Chicago Fire), 1873-1876 (the Panic of 1873), 1877 (The Great Strike), 1878-1884 (Immigration, Labor, and Politics), 1884-1891 (Haymarket and Hull House), 1892-1895 (1893 Chicago's World Fair), and 1896 (The Cross of Gold). The "Teacher's Parlor" has nine lesson plans, including the WCTU and the lynching controversy, civil service reform, bimetallism, and free trade.