The Origins of the Service Flag
Question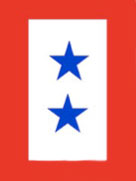 Our church has a World War I service flag with 16 stars. One has a gold star. Two have gold crosses. What do the gold crosses mean?
Answer
Following America's entrance into World War I, families of servicemen began displaying flags to show support for their sons and husbands fighting in France. According to the Blue Star Mothers of America Organization, the service flag was designed and patented by Army Captain Robert L. Queisser of the 5th Ohio Infantry, who had two sons serving in the war. (1)
The display of service flags became extremely popular during World War II.
Service flags were an indoor, wartime flag, generally about a foot in length and usually suspended vertically in a window for public viewing. Many of these flags were handmade from cotton or wool by mothers or spouses. Businesses and churches would sometimes display larger flags in order to recognize the service of employees or members. A blue star represented each family member in active service. In the event of a service member's death, the blue star would either be covered or replaced with a gold star, sometimes surrounded by a laurel wreath. A gold circle signified distinguished service. Gold crosses set inside a blue star signified that a family member was wounded. A red star represented a captured or missing member. So it appears that your church's service flag denoted 16 members serving in World War I, with one killed (gold star) and two wounded (gold crosses).
The display of service flags became extremely popular during World War II. One of the most well-known service flags served as a striking backdrop for a patriotic poster honoring the Sullivan brothers, all five of whom perished at sea with the sinking of the U.S.S. Juneau. Though the popularity of the service flag waned in the post-World War II years, it regained some of its popularity in the wake of 9/11 and the Iraq and Afghanistan conflicts, Today, the Department of Defense has specific regulations for manufacturing, selling, and displaying the service flag. For example, vendors must obtain a license to manufacture the flag; its ratio of length to width must be the same as the national flag, and display of the service flag at a residence is restricted to immediate family members and only during wartime.
For more information
Kerrick, Harrison S. The Flag of the United States: Your Flag and Mine. Columbus, OH: Champlin Publishing Company, 1925.
Institute of Heraldry, Office of the Administrative Assistant to the Secretary of the Army. "Frequently Asked Questions-Service Flag and Service Lapel Button." Accessed August 21, 2012.