At a Glance
Description
In French and English, explore the history of the French in North America from the 1500s through the 1800s.
Producer
Library of Congress and Bibliotheque Nationale de France
France in America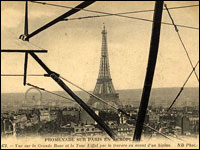 This bilingual website (English and French) explores the history of the French presence in North America from the early 16th century to the end of the 19th century through more than 360 manuscripts, books, maps, and other documents. Each thematic presentation—"Exploration and Knowledge," "The Colonies," "Franco-Indian Alliances," "Imperial Struggles," and "The French and North America after the Treaty of Paris"—includes a title exhibit and additional exhibits that highlight particular items in the collection. Materials can also be browsed in the collections section.
A timeline (1515–1804) organizes events in French America by explorations, colonization and development, and conflicts and diplomacy, and places them in the context of events in France. Additionally, there are eight descriptive maps that show various Indian groups in contact with the French and the changes in political boundaries in North America from before 1763 to the era of the Louisiana Purchase.