At a Glance
Description
What was the nature of Nixon and Echeverria's political relationship?
Producer
National Security Archive, George Washington University
Nixon Tapes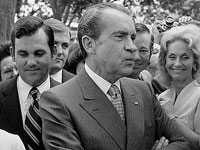 This collection offers 32 transcripts and a dozen audio excerpts, all recently declassified, of conversations between former U.S. President Richard Nixon and the former president of Mexico, Luis Echeverria Alvarez. The audio files come close to 170 hours of conversation between the two leaders. Both men were involved in secret operations at the time of the conversations (Nixon was involved in the Cambodia bombings, while Echeverria was fighting a "Dirty War" against political opponents in Mexico), although only Nixon knew the conversations were being recorded. The two presidents often mused about geopolitics and only occasionally discussed the most-frequently debated issues between the two nations (such as drugs or trade). Although the tapes are available in other archives, the focus of the site makes it useful in exploring the relationship between Nixon and Echeverria.